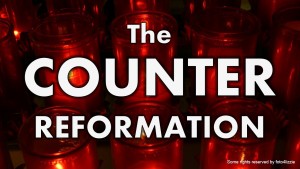 Speaker: Richard Bennett
Richard Bennett spent twenty-one years as a Roman Catholic priest in Trinidad, WI. Following a serious physical injury in 1972, he began a serious personal study the Bible. Fourteen years of prayer and independent study forced him to contrast Catholicism to Biblical truth, and he became convinced that justification and salvation was by God's grace alone through faith alone, and that even the faith to believe was a gift of God. In 1986 he formally left the Roman Catholic Church and its priesthood and founded an evangelistic ministry to Catholics called "Berean Beacon." More information is available on Richard's webPage at: www.bereanbeacon.org
The following recorded message by Richard details the Catholic "Counter Reformation" to the Protestant Reformation. Richard speaks with compassion and sensitivity to Roman Catholics, a people he dearly loves, and brings great clarity to the history of the Roman church and its activities right up the present day.