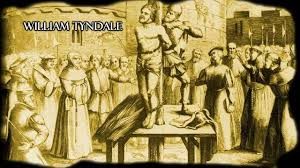 The story of how the bible came to be translated from the ancient languages of Hebrew and Greek is fascinating, to say the very least. It is especially interesting to learn how our modern English translations came down to us, and how the Roman Catholic Church fought so many centuries to prevent ordinary believers from possessing the scriptures, especially in their own language. The Roman church insisted on the Latin Vulgate translation as the ONLY authorized translation, yet only the most educated persons could even read it if one could be obtained, which was nearly impossible.
This English Bible History Article & Timeline is ©2013 by author & editor: John L. Jeffcoat III. Special thanks are also given to Dr. Craig H. Lampe for his valuable contributions to the text. This page may be freely reproduced or quoted, in whole or in part, in print or electronically, under the one condition that prominent credit must be given to "WWW.GREATSITE.COM" as the source.
The embedded recording (below) is a great summary of the history of that struggle, and how God was so faithful to get His word to His people, in spite of horrendous persecutions. Enjoy!