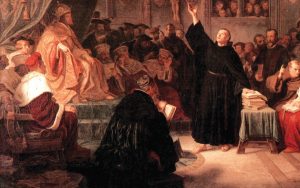 In this second installment of my series on the Reformation, we explore the theological foundations behind the hyper-religious system Luther and the other Reformers wrestled with. This system makes God's salvation conditional upon the keeping of sacraments, doing penance, and obtaining "merit" from the mythical "treasury of merit" and "indulgences" that the popes dole out for a price to people to offset their sins.
Luther's 95 Thesis' posted on the Wittenberg Castle Church door attacked this unscriptural belief and sparked a theological revolution.
Click the arrow below to hear the streaming audio.
The Reformation Part 2

- Dr. Bruce R. Porter